Temporomandibular Joint Disorders
---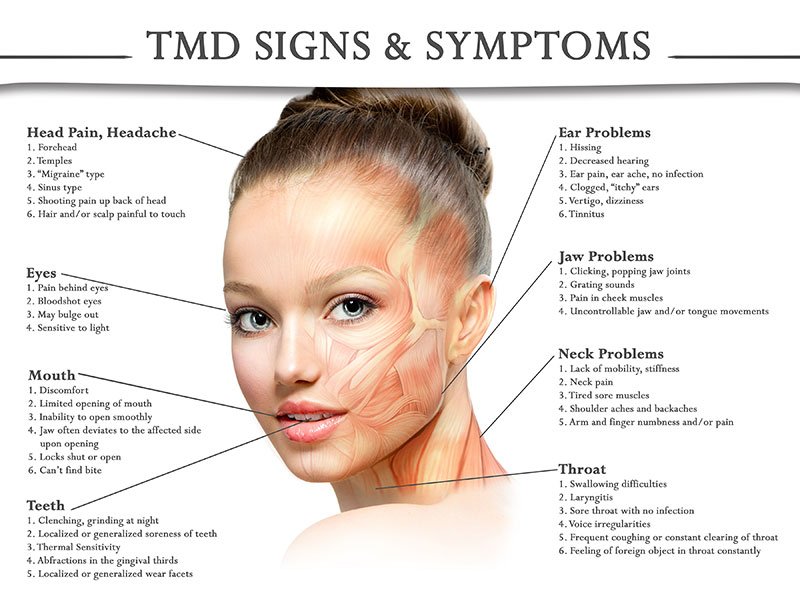 The temporomandibular joint (TMJ) is the jaw joint that connects the jaw bone to the skull and allows movement such as chewing, speaking or yawning.
Temporomandibular Joint Disorder (TMD) refers to problems with the jaw, jaw alignment, the jaw joint and surrounding muscle and connective tissue. TMJ and TMD are often used interchangeably.
Symptoms of TMD include:
Headache
Facial pain
Ringing in the ears
Immobility or inability to move the jaw
Clicking, popping or locking sounds in the jaw joint
Sleep Apnea
Diagnosing TMD can be challenging, since many of the symptoms seem unrelated to the jaw joint.
Causes of TMD
While an injury to the jaw or surrounding muscles can trigger TMD symptoms, more common triggers include stress causing tension in the jaw area and clenching or grinding teeth during sleep. A problem with the joint on one side of the face will also cause problems on the other side.
Types of TMD
TM Primary
TMD Primary is caused by an injury to the jaw joint, such as blunt force trauma or some other cause directly attributed to the jaw joint. Symptoms can include jaw or facial pain, unrelenting headaches not resolved with pain remedies, ear pain and noises, sinus congestion, and clicking or locking in the jaw.
TM Secondary
TM Secondary is caused by a primary health concern not directly related to the jaw joint. For example, chronic sciatica can trigger TMD symptoms because spinal misalignment can result in skull misalignment and pain in the jaw area.
Treat to Protect
Preventative treatments can slow the deterioration of the jaw joint. For example, appliances that protect the teeth from grinding is a Treat to Protect solution.
Treat to Resolve
Treatments to resolve TMD are often multi-faceted to address the complex roots of the problem. Typical treatments can include muscle training, lifestyle counselling and varied types of physical therapies.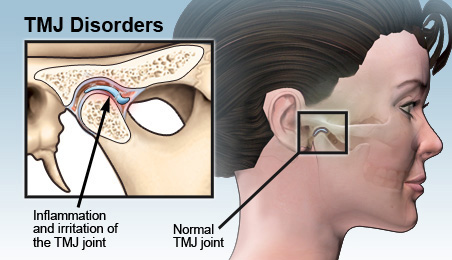 JJaws at Highland Hills Dental Providing Jaw Joint and Airway Solutions team will coordinate with your health care practitioners to obtain an accurate and complete diagnosis and recommend customized treatment to provide relief from the debilitating and painful TMD symptoms. Some treatments can be simple and affordable, such as a simple dental device to reposition the jaw as you sleep. Talk to us today and book your appointment.